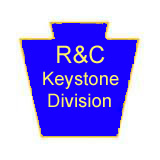 Videos
Video Overview of the Railroad
Dispatcher Console controlling traffic flow via turnouts and signals
What the Real-time Status Display does and how it helps the Conductors, Engineers, Yard Masters and Visitors. Use PIP overlay of Loco movement on Status Display.
3D Printing of N Scale Parts
Signal Head shrouds for Digitrax SE8c Two Head Signal Masts
Go to Shapeways.com if you want to buy a signal shroud.
G
MRRM Software Demos
Generate example of manifests, waybills, schedules and switchlists for one type of Lading, two Shippers and two Consignees
Completing all trains, needed for the first two shipments in the above video above, requires 10 train in a twelve hour period (see below).Three windows are collated in this image: manifests, shipments and train rules. Note that in addition to the six locals run from Reading, Philadelphia or Erie yards, four way freights were needed to move empty or full cars between these three yards.
Notice that in the shipments window, two shipments were created to move empty cars back to their respective home yards
The train rules for the Phuilly local chosen is shown in the Train Rules window.
Examples of trains runs
Military Train from Erie to Indianotwn Gap - Memorial Day remembrance
Yuengling Beer from Pottsville to distribution points in Shamokin, Philadelphia, Scranton
Logs from Ashland to Williamsport
Finished lumber from Williamsport to Container Dock
Wood Power Poles from Williamsport to Frackville Depot
Coal from Sunbury Coal Mine to Bulk Port
Coal from Girardville to PP&L Power Plant
Steel from Scranton to Waterfront
Steel from Bethlehem to Erie
Manifest freight from Reading Yard to Erie Yard
Manifest Freight from Erie Yard to Philadelphia Yard
Local out of Erie Yard
Local out of Reading Yard
Local out of Philadelphia Yard
Oil or Gas to Philadelphia Seaport
Titusville to Philadelphia Oil and Gas Port
North Dakota via Cleveland Interchange to Philadelphia Oil and Gas Port
Marcellus Shale Gas from Scranton to Philadelphia Oil and Gas Port
LP Gas from Philadelphia Oil and Gas Port to Reading Homgas Plant
MTs (Empties) from Philadelphia Oil and Gas Port to Titusville and Cleaveland Interchange
Passenger Trains:
Three Passenger Eras: Modern, Transition, Steamer
A Daylight SP4 Steamer run from Pottsville to Eire
Train Meets
Eastbound through Girardville and Westbound through Girardville
Eastbound through Ashland and Westbound through Ashland
Eastbound through Williamsport and Westbound through Williamsport
Eastbound through Hamburg and Westbound through Hamburg
Eastbound through Philadelphia and Westbound through Philadelphia
Eastbound through Scranton and Westbound through Scranton
Eastbound through Titusville and Westbound through Titusville
Cab View Runs
Ashland to Erie
Erie to Frackville
A 11/ 2011 R&C Keystone Division video by Jared Davis of Whistlestop Productions
Orlando N Trak Cab Ride by Jared Davis using my original Cab Cameras
An Operational Signaling System for an N Scale Layout:
An Animated Cascade Signal Demo in N Scale
Robot Trains
Developed Robot Trains for fully controling my layout as well as for museums, hobbyist's homes and other model train layouts. The video demos my Beta 1 version that obeys signals, turnouts, and sensors along a route through blocks of track on my layout. This version also supports multiple reverse/forward directives as part of a Robot Train's route. When controls are installed and my database app is installed and populated for all tracks/blocks, sensors, turnouts and signals then only the desired stop specs and turnout settings must be specified to create a robot train route script that will operated under a JMRI controlled layout. My idea is to allow a dispatcher to controll all or a portion of the layout. Two or more sections of the layout will allow dispatchers to jointly advance robot trains. This could be used as a game by visitors or members. So instead of museum gazing, visitors can safely control train flows by acting as the dispatcher of some or all of the layout. We now allow a dispatcher to control main and alternate bypass tracks to effect Meets via altering routes, For now we constrain East to West trains to the Main line and West to East trains to the passing sidings or vice versa. Of course since human operators (should) also obey the signals, turnouts and dispatcher directives, a mix of human controlled and robot controlled trains could operate a layout at the same time.
Robot Train with Reverse Feature demo Beta 1.0
Robot Train with Reverse Beta 2 - Loco and five cars dynamincally change speeds based on sensors and script. Stops at four location for unloading beer to thirsty people!
Sound standards for R and C Robot and Manual trains are demoed. Trains arriving to a stop sound one long horn blast plus the bell until trains stops. Departing trains sound two long horn blasts, a delay then two more long horn blasts. Reversing trains sound three short horn blasts plus the horn until train stops.