Keystone Trackwork

End-Point to End-Point requires three passes around the walls - highly compressing Height as well as Length and Width.

The Track Class of much of the layout is Class 1 owing to the #6 Turnouts and the lack of curve elevations. So, the Freight speed limit is 10 (to 20) mph and the Passenger speed limit is 20 (to 30) mph.

137 foot mainline track exclusive of Erie Yard and Pottsville - St Clair Yard staging mainlines ( 548 car lengths*)

Seven mainline runarounds; two with double train length mainline/bypass-siding tracks comprising 49 feet or 196 cars.*

Five of our long alternate tracks can accommodate 2 normal length trains each - one behind the other.

Average Train length 3 feet or 12 forty foot cars; Maximum train length on five longest alternate track is 6.5 feet or 26 cars

88 Occupancy Sensors in Train room; 95 Blocks (so 7 more sensors needed)

About 100 turnouts; 63 Turnouts in Train room; 80% stationary decoder controlled

Erie (West) Staging Yard with track reversal (70 feet => 280 cars and 16 turnouts)

Pottsville-St Clair (East) Staging Yard with turntable to reverse locomotives only (32 feet track =>128cars and 14 turnouts

Long Train Reversing Wye at top level (22 feet => 88 cars and 1 turnout)

Train Reversing Loop for Philadelphia and Reading yards at bottom level (7 feet => 28 cars )

20 Digitrax Transponder Readers

108 Signal Heads

21 industry spurs (46 feet => 183 cars)

Train Room area (exclusive of staging room and Dispatcher space) is 12 by 13 or 156 sq ft

Layout area (exclusive of staging ) is 90 sq ft or 58% Layout vs Total Room size

Max Number* of cars = 80% of storage+staging+passing/2 = .8 x ( 183 cars + [280 + 128] cars + 69 /2 cars ) = 626 cars

Ratio Max # Cars to Mainline # Cars = (626/548) = 114% This implies a Balance of Mainline running and Switching *

Number of cars moved* in a cycle = .4 x (stagingx2 + passing) = .4(408x2 + 69) = 354 cars

Number of average trains per cycle = 354/12 = 30 Trains*

Dispatching Threshold = (3 x 3.25 + 2 x 13 + 28) 137 foot mainline track exclusive of Erie Yard and Pottsville - St Clair Yard staging mainlines ( 548 car lengths*)/ 6 = 10 car train length for easier dispatching workload*
* Running 40 foot cars in N scale implies 4 cars per foot (160:1).
See Joe Fugate's article in October 2014 MRH issue on "Layout Design Assessment Formulas" for comparison of this layout to Joe's metrics.
The model railroad comprises eight bypass or alternate track sections. These track sections allow one or more trains to move off the mainline and wait until another train passes on the mainline. Space constrains us to limit each train to one or two locomotives and ten cars on some of these bypass tracks. Two of these bypass track sections, Ashland and Girardville, have room for one of these train lengths. Titusville is more limited and can only handle special situations for short trains or locomotive runarounds during switching. Five of the sections are long enough to hold two or more trains - one behind another: Williamsport, Scranton, Pottsville - Allentown, Philadelphia - Reading, and Philadelphia Reverse
The mainline sections with bypasses and their typical train holding capacities (49.5 feet and 69 cars) are:
Williamsport 2 x 2 (11.5 feet; 46 cars) p; (11.5 feet; 46 cars)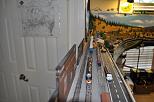 Girardville 2 x 1 (3.25 feet; 13 cars)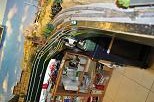 Ashland 2 x 1 (3.75 feet; 15 cars)
Philadelphia 3 x 2 (Waterfront 7 feet; 28 cars and Allentown Reverse 11 feet; 44 cars)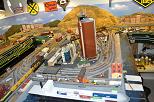 Scranton 2 x 2 (6.5 feet; 26 cars)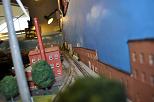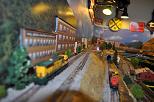 Pottsville - Allentown 2 x 2 (6.5 feet; 26 cars)
Titusville 2 x 1 (limited to certain cases; 2 feet; 8 cars)

With this configuration we plan to support up to 12 trains concurrently.
---
There are currently 21 Sidings on the railroad serving industries where freight cars can be spotted or picked up. Storage capacity is 183 Cars.
---
Main Line and Bypass Siding Tracks
There are several Mainline and Bypass tracks that also service industries. Trains may temporarily stop and service industries on these tracks. Keystone operating rules limit these stops to Less than Car Load (LCL) deliveries or pickups. Trains servicing these industries are allowed to hold the Main Line or Bypass track for at most 30 (fast) minutes per stop.
Bud's Beer Distributor warehouse in Shamokin is on the Ashland - Shamokin - Indiantown Gap mainline.
Scranton Warehouses, Scranton Fabrics, Sauquoit Silk, NEPA, Home Depot Distribution Center are on the Scranton Alternate track
Tunkhannock Warehouse and Tractor Supply warehouse are on the Tunkhannock Mainline
Williamsport lumber also transfers products on the Driftwood-Williamsport Alternate track
East Williamsport Weis Market Warehouse, Yuengling's Ft Hills Brewery and East Bank Lumber Mill are on the Driftwood-Williamsport Mainline
East Titusville Walmart Warehouse is on the Titusville-Driftwood Mainline
Target Warehouse near Harrisburg is on the Sunbury - Harrisburg Mainline
Hershey's Kitchen Warehouse is on the Hershey Mainline
Philadelphia Oil & Gas Port on Schuylkill River Waterfront Track
---
Yards
There are four yards on the railroad. Each yard services industries in its area of operation. Freight cars typically do not move directly from shipping industry to consignee industry but rather move through yards and use multiple train manifests to effect delivery and MT returns.. When the shipper and consignee are not served by the same yard, these freight cars are moved from the Shipper's home yard to the Consignee's home yard (possibly stopping at other intermediate yards or interchanges).
Cars are weighed and approved before they are sent out on the railroad. After a Local train picks up a car at a Shipper, it is brought back to the home yard or nearest yard and weighed before it is released for delivery to the Consignee.
Each Yard's track holds a limited number of cars. We virtualize a larger Yard capacity using off track storage for cars using the Yard when necessary.
The Keystone Division has these yards:
Departure Track
Arrival Track
Classification Tracks (7) - one track is currently assigned as the Baltimore Interchange
local trains visit Philadelphia, Container Port, Seafood Port, Oil and Gas Port, Lancaster
Reading Yard
Departure Track
Arrival Track
Classification Tracks (6)
local trains visit Reading, Bethlehem, Allentown, Hamburg, Pottsville, Frackville, Girardville, Big Mine Run, Ashland, Shamokin, Indiantown Gap, Harrisburg, Hershey, Sunbury, Hazleton
Erie Yard (west staging)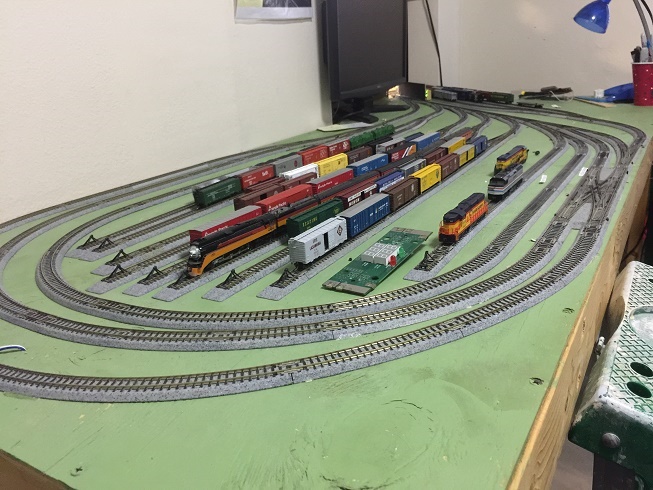 Departure Track
Arrival Track
Classification Tracks (8)
Buffalo Interchange Track
Cleveland Interchange Track
local trains visit Erie, Titusville, Williamsport, Laporte, Tunkhannock, Scranton, Wilkes-Barre
Reversing Loop
Pottsville Yard - East Staging (aka St Clair yard )
Departure Track
Arrival Track
Classification Tracks (4)
Easton / New York Interchange Track
Locomotive Reversing Turntable and Locomotive Yard for Keystone Division
---
Interchanges
Interchanges provide track sharing between two railroads. Cars moving from one railroad to another are temporarily spotted on interchange track by one railroad for pickup and delivery by another railroad. Each car set out and picked up is accompanied by a Bill of Lading (BOL) which contractually binds the two carriers in the car and commodity, if not empty, exchange.
Each Interchange track holds a limited number of cars. We virtualize a larger interchange capacity using off track storage for cars requiring the interchange. The Keystone Division has these interchanges:
---
Branch Lines
Branch Lines are typically small railroads serving a limited group of users. There are four Branch Lines on our layout:
Yeagertown Switchback Railroad is a Branch line dedicated to timber farming above Ashland. There is an interchange track to transfer the timber to Williamsport mills for processing and distribution.
Philadelphia Loop serves passengers in the Philadelphia area. This Track is also used by local trains originating in the Philadelphia Yard that serve five industrial siding tracks off the Philadelphia Loop. The Keystone Division's Philadelphia Yard throat owns the track and switching that allows the Philadelphia Loop to complete its loop using a four turnout and crossing Interlocking managed by the Keystone Division.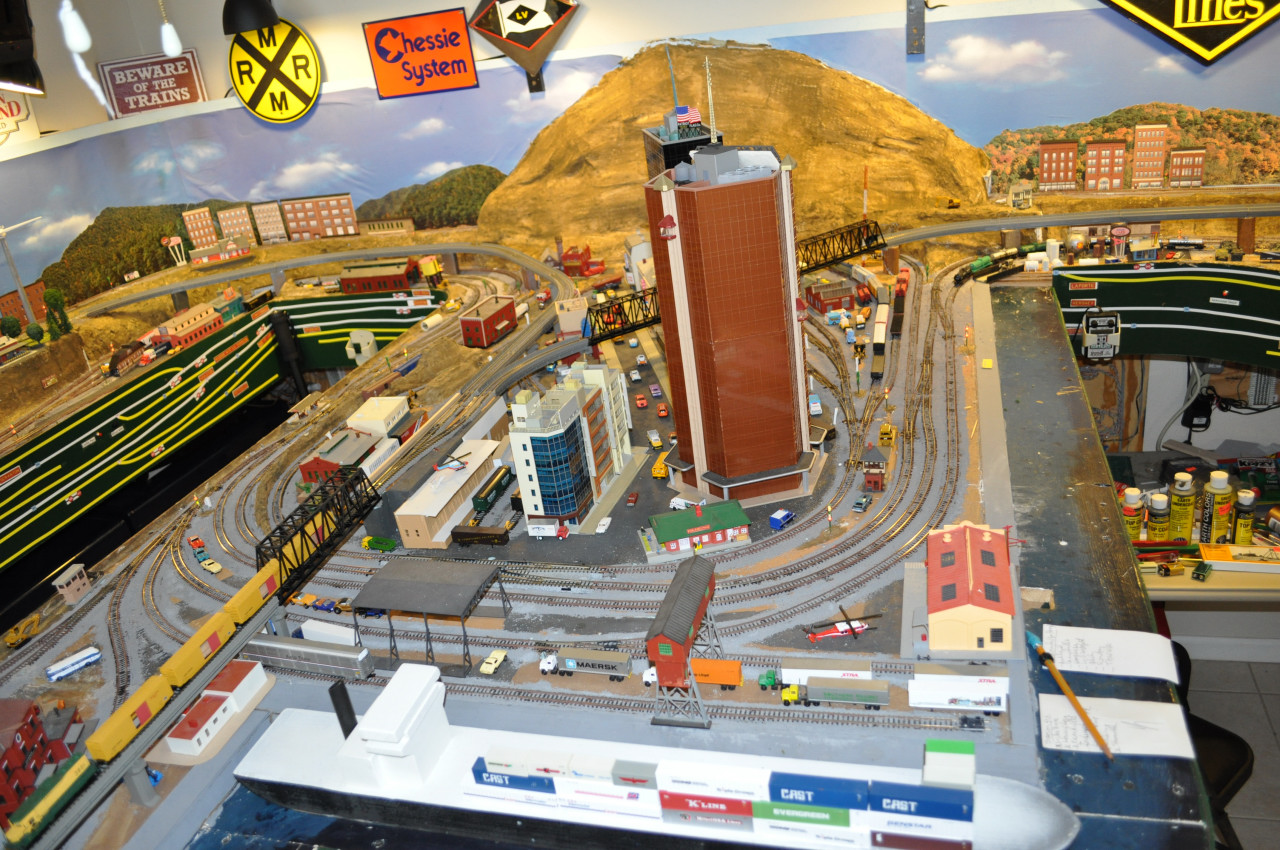 Philadelphia - Easton Reverse is a Branch line used to turn locomotives serving the Philadelphia and Reading Yards.
Scranton-Philadelphia-Williamsport Wye is an elevated Branch Line used to turn full trains near Scranton or Williamsport. The Wye also serves Unit Trains carrying coal cars from Girardville or Sunbury to the Anthracite Exporters Company at the Bulk Port loading facilities for shipments to overseas customers.
---
Original Track Plan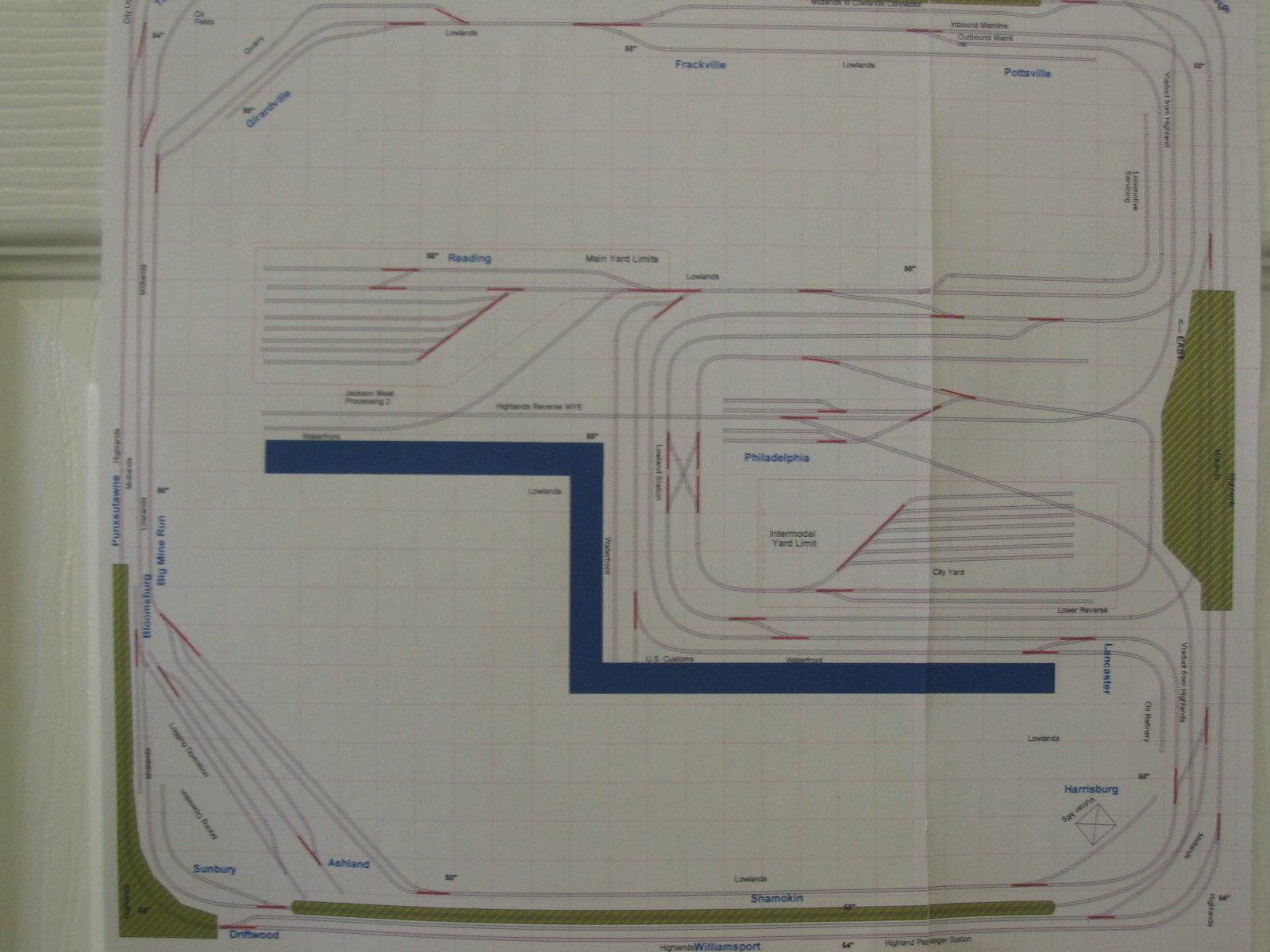 ---