---
Purpose | Screen Images | Data Description | Function Descriptions | How to Use
An interchange is a track segment or set of track segments that connect two or more Divisions. If you have more than one Division on your layout then you need at least one Interchange on your layout. If you support commerce with industries not on your layout then you need at least one interchange to connect with these foreign industries.
---
This figure shows the Interchanges on my railroad. The lower pane shows the Divisions interconnecting at the (my) Baltimore Interchange. The Gray Division is part of the Chesapeake Railroad on my layout. The Main Division is on a friend's layout that I use to forward traffic to his railroad or other railroads connected to his railroad using MLO.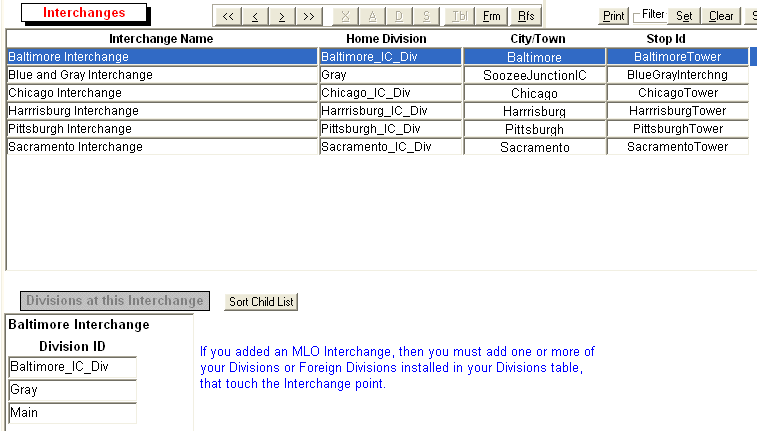 ---
Interchange Name - unique name of the interchange
Home Division - Division that owns the Citytown and Stop where the interchange is located.
Citytown ID - Citytown where the Interchange is located.
Stop ID - the interchange stop point where cars are picked up or set out.
List of Divisions in lower pane - an arbitrary list of Divisions that can connect at this Interchange.
---
---
To forward commodities or passengers between two or more divisions, an interchange or sequence of interchanges is needed. MRRM uses this data to create routes for shipments.
---