---
Purpose | Screen Images | Data Description | Function Descriptions | How to Use
A Division represents a segment of or an entire railroad. To traverse long distances, a train often crosses from one division to another. You may have multiple Divisions on your layout and have knowledge of several Divisions not on your layout but which directly or indirectly connect with a Division on your railroad.
---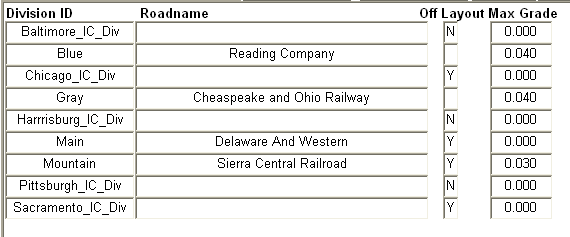 ---
Division ID is a unique string of up to 20 characters.
Roadname is the name of the Railroad that owns the Division.
Off Layout is 'Y' if the Division is not part of your layout.
Max Grade is not used by MRRM at this time (max is 5%=0.050)
---
There are single and summary Division reports.
A picture of each Division may be linked to the data and viewed if desired.
---
All traffic flows within or between Divisions identified in this table. So be sure to include your Divisions and your Partner Divisions if you will be using the Multi_layout Operations feature. There are tools in the MLO tabpages to facilitate this data installation.
---