---
Purpose | Screen Images | Data Description | Function Descriptions | How to Use
For each Industry you serve, you must specify which commodities they buy and which commodities they sell. For each commodity you must specify the Stop where the commodity is picked up if it is a commodity the industry sells or the Stop where the commodity will be set out if the industry buys the commodity. An Industry may have an arbitrary number of commodities bought and sold
---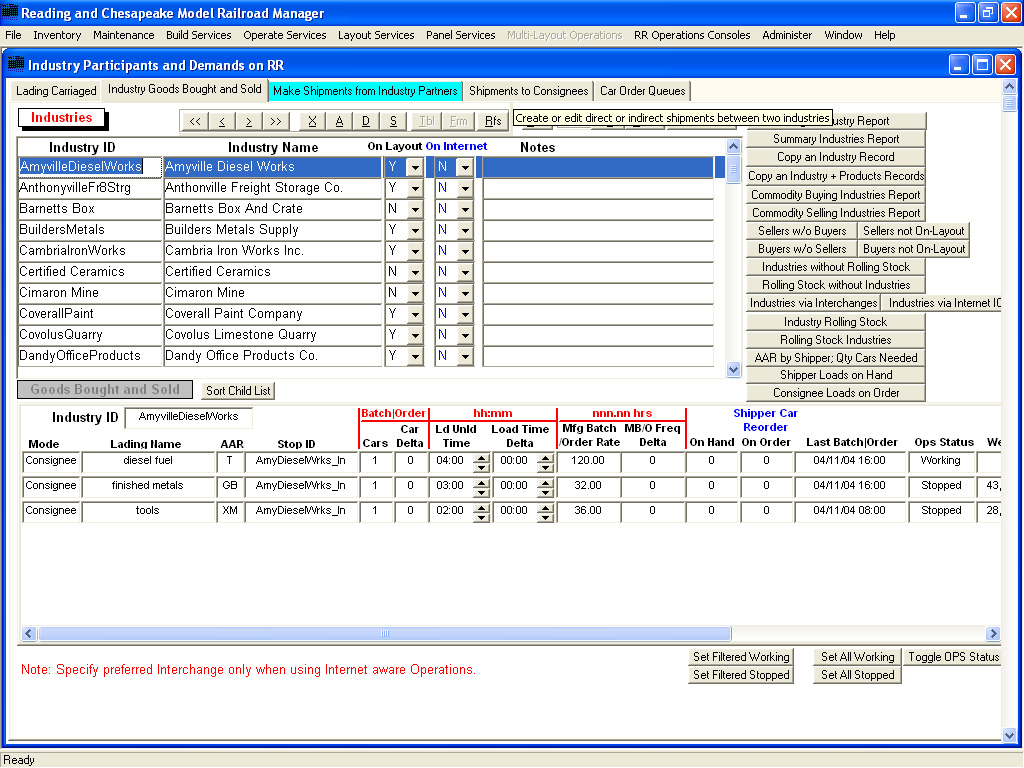 ---
Industry ID - short name for the industry; up to 20 characters; must be unique
Industry Name - long name; up to 30 characters
On Layout - 'Y' if the industry is on your layout; else 'N'
On Internet - 'Y' if industry operates over the internet for multi-layout operations; else 'N'
Mode - either Shipper or Consignee for this lading
Lading Name - select from the drop-down list
AAR - is packed automatically based on the lading selected
Stop ID - where this Shipper want railroad to pick up its full cars or where Consignee wants railroad to set out its full cars.
---
Click a button to see the many available reports
Set Filtered Working - Apply filter criteria to industries then click this button to set all industry activity to working
Set Filtered Stopped - similarly, stop all filtered industries
Set All Working - click to set all industries to working
Set All Stopped - click to set all industries to stopped
Toggle OPs Status - click to change selected industry buying or selling activity to working or stopped
---
Determine what commodities each industry requires to manufactures or assembly or distribute its products. Also, specify what products each industry ships customers.
---