---
Purpose | Screen Images | Data Description | Function Descriptions | How to Use
To operate a train from a computer screen, you can use MRRM's HyperThrottle (tm) cab. We call the MRRM cab a HyperThrottle cab because it integrates typical throttle capabilities with specific knowledge of the railroad topology and rolling stock and of the waybills and manifests for the instant operating session.
---
The HyperThrottle provides the Engineer and Conductor with all relevant current information about the job at hand. This panel could be used with a Laptop or Tablet PC having WiFi capability to access all current information.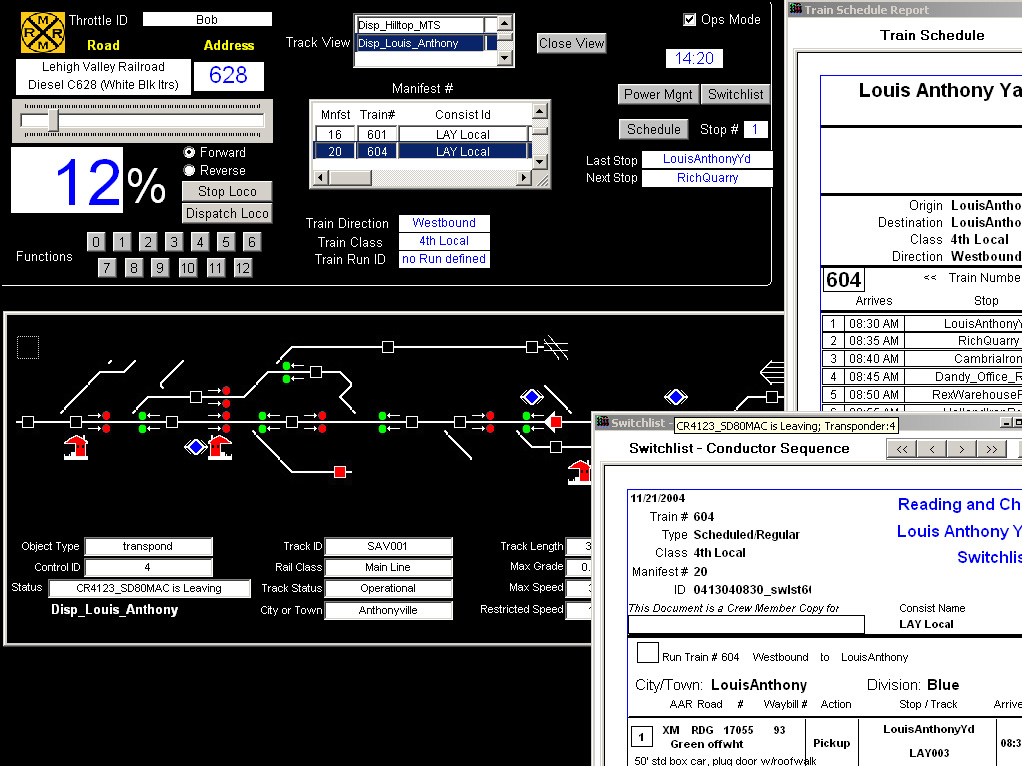 ---
Described elsewhere.
---
Throttle
Throttle ID - choose one of the five throttle IDs from the drop down list from those defined for the chosen JMRI servlet server. See JMRI controlled layouts for further details.
Road - select the locomotive road name and number from the drop down list
Address - decoder address is automatically picked via the previous step
"Slider" - move left or right to set the throttle speed
Forward/Reverse - choose direction for the loco
Stop Loco - commands the loco to Stop
Dispatch Loco - tells the command station to dispatch the loco
Functions 0 to 12 - click a button to command the function for the loco
Track View - select a track diagram from the drop down list by double clicking on the name. The selected track diagram will open in a new window. Activate the track diagram by clicking the checkbox in the upper right corner. This causes the diagram data to be perioducakky refreshed from the feedback database.
Close View - close the track diagram window
Manifest # - if the selected loco has been assigned to any manifests a drop down list will be shown. Click on a manifest to link the throttle to the manifest operational duties. The schedule and switchlilst for the manifest will now be available for use
Train Direction - the direction is automatically picked from the manifest database
Train Class - automatically found via the manifest;s train number assignment
Train Run ID - automatically found via the manifest;s train number assignment
OPS mode checkbox - displays or hides manifest related features
Power Management - displays the Hostler report showing the locmotive(s) and caboose, if any, for this train
Schedule - click this button to see the schedule for this train
Switchlist - click this button to show the switchlist for this train
Last Stop - most recent (or current) stop of this train
Next Stop - next stop for this train
---
The HyperThrottle contains all the information needed to operate a train with a manifest during an operating session except a view of the layout used. This HyperThrottle can be used on a laptop or tablet PC with WiFi networking in the train room or over an internet connection with web cams in the train room.
---